The Challenge
Cybersecurity awareness for employees is arguably the most fundamental area of focus for staff training in the digital age. This is because of the expanding access online to sensitive personal and company data and the growing threat of malicious attackers trying to illegally monetise that data.
Awareness of the different types of threats that face employees is essential in trying to prevent sensitive data being stolen and avoid financial loss or penalties from regulatory authorities.
The Service
BH Consulting, in partnership with RegSol have developed a new interactive Cybersecurity Awareness training course which integrates content prepared by BH Consulting with RegSol's specialist expertise in e-Learning development. The training has been prepared to encourage users to engage with it and learn comprehensively, without using tactics which can frustrate users.
Key security themes are included such as protecting login, managing passwords, reporting a breach, secure web browsing and how to spot and avoid the many types of scams.
Clients are provided with their own private branded portal which allows administrators to setup/remove users, assign courses to users and track progress against various courses.
Users are required to both complete every section and also pass a quiz (pass mark is set at 80% unless otherwise stated). The overall duration is approximately 45 minutes.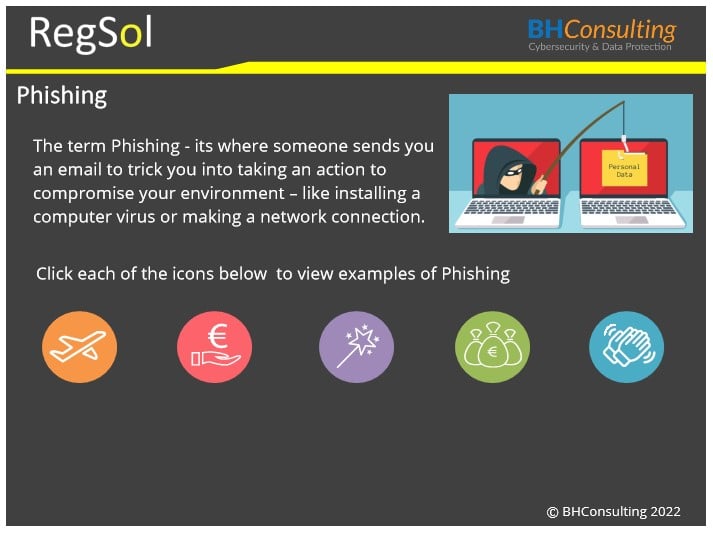 The Benefits
The content has been developed using solely BH Consulting material, with an Irish perspective

Prominence is given to awareness of typical social engineering attacks including phishing, smishing and vishing.

All courses can be completed on PC's or tablet platforms

Easy to view panels for administrators show a snapshot of users progress at any given moment