Blocked from bargain hunting in stores due to Coronavirus restrictions, many consumers will seek out sweet deals when buying online. Black Friday, and the follow-up, Cyber Monday, provides the perfect platform for criminals to trap unwary shoppers with scams disguised as unbeatable offers. As the pre-Christmas sales season is upon us, police forces across Europe have launched campaigns to promote safe online shopping.
Messages about online safety and security are more important than ever this year. Cybercriminals using social engineering and psychological pressure for their scams are profiteering from the lockdowns. Fraudsters prey on the emotions of stress and pressure because it stops their victims from thinking clearly. Earlier this year, panic about the pandemic raised people's anxiety levels, which made them more prone to falling for tricks like clicking on malicious links supposedly with news about coronavirus.
With shops closed for long periods due to COVID-19, people went online to buy essentials or extras – but some got more than they bargained for. From New Year's Day until Halloween this year, there were 489 online shopping frauds reported to An Garda Síochána. The total loss was over €1,127,972 which works out as €2,306 on average. Losing that kind of money is hard at any time but would be especially tough to take close to Christmas.
Under Pressure
Now, as the busy shopping season approaches, it's not hard to imagine that many people will feel under pressure to buy gifts online to make sure items arrive in plenty of time for Christmas. Anyone who's not used to shopping online might not be aware of the potential risks. Add some lockdown fatigue into the mix and shoppers might be tempted to fall for deals that are too good to be true.
Europol have produced an excellent infographic detailing the risks, which we republish here. An Garda Síochána has put together a useful information page complete with videos outlining the key messages. Below, we provide some more details behind the advice, to help you and those you care about shop safely online and avoiding nasty Christmas surprises.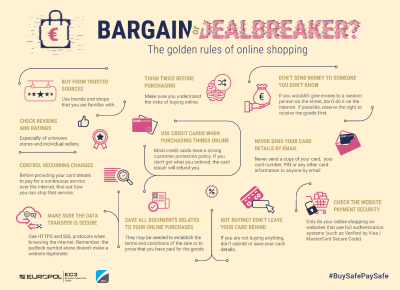 Suspicious Minds
Use good judgement when shopping online. If you're buying presents, it's better to be suspicious with 'buy and sell' marketplace sites because they often involve cash transactions which means you have no recourse if the goods aren't what you expected. If you're unsure, ask a friend or family member you trust: "does this look right to you?"
Bad Reputation
When buying online, do some investigation if possible on who exactly you're buying from. For a business, a quick search online should tell you if it's their legitimate site. If possible, buy locally rather than sourcing something from another country, as you may be stuck with hidden import charges and postal delays.
If it's an individual seller on an online marketplace, see if many other people have bought from them. Did they leave a good (or any) rating? Many e-commerce sites rank sellers so that's one way to check their reputation. If a seller has only registered in the past month, that doesn't necessarily mean they're not legitimate, but it might raise your suspicions. If the seller is offering a brand new PS5 when they've previously only sold second-hand goods it may indicate the selling account has been hacked.
Bargain
Some websites will try and tempt buyers with an exaggerated discount. They do this by artificially inflating the original selling price which makes the bargain seem bigger than it really is. This is a psychological trick to make it seem like you're getting a better deal. Criminals know this too, and they use similar tactics to nudge people towards clicking the 'buy' button.
Been caught stealing
When it comes to buying online, the bottom line is – always – if it's way too cheap, it's a con. Worse still, it might be stolen goods. As I was writing this blog, RTE News was reporting that the Gardaí seized more than 15,000 fake consumer electronics products like games console controllers, earphones, USB plugs, and chargers, which they believe were intended for the Christmas market. The police also found branded packaging, suggesting the criminals were going to try and pass off the poor-quality products as coming from well-known companies. If you see an unusually cheap product from a familiar brand name online, check that company's own website for comparison. If there's a huge discrepancy between the prices, that's a warning sign.
You Never Give Me Your Money
Where possible, use a credit card when you are paying for anything when buying online, because they offer more protection. If you pay for an item with a credit card and the item turns out to be fake, or you never receive the goods, the card provider must refund you by law (minus a nominal fee) if you can't get a refund. With debit cards, banks are not obliged to cover the loss, although in practice they usually will – but you as a consumer could be left on the hook for a dodgy deal.
If you're buying from a site like eBay, always use PayPal if possible because it has a robust returns policy. If a seller asks you to pay for the item offline using a money transfer service such as Western Union, that's a giant red flag.
Just to emphasise, we're not saying don't shop online. The fact is these days we may not have much in the way of alternatives, but there are steps we can all take to avoid scams. Instead of "down with this sort of thing", think "careful now".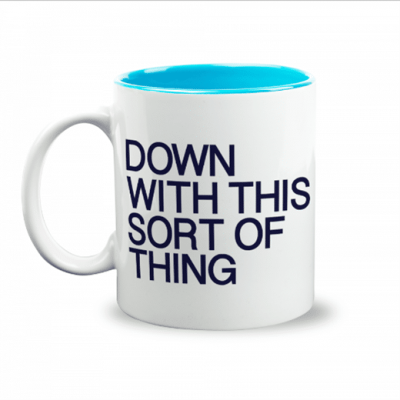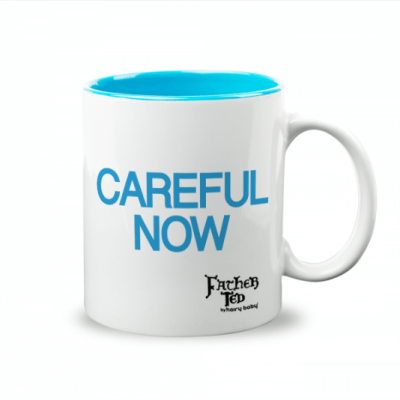 Have you signed up to our monthly newsletter? Every month we send out the latest cybersecurity and data protection news, trends and advice from around the globe. Sign up here